Mountain House Concrete Contractor
Top Concrete Contractors in Mountain House from Brentwood, CA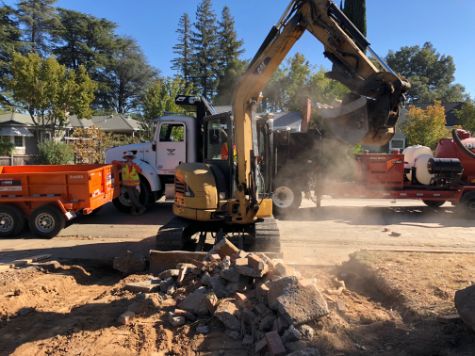 You probably plan to add a patio, driveway, or walkway to an outdoor living area in Mountain House. You might end up confused due to the full range of paving materials available. Your choice may be made more difficult because some materials are more durable and cost-effective than others. Others are easier to maintain as compared to others.
The two most commonly used materials are paving stones and concrete slabs. The poured concrete slabs are widely used in the outdoor residential space due to their cost-effectiveness and installation ease. With the introduction of stamped concrete, homeowners can have various options regarding the textures and designs.
Call us today on (925)309-5329, and you will love the results.
Brick pavers or paving stones consist of individual stones that are made of different kinds of stones, such as brick, concrete, or natural stones. The majority of these pieces are interlocked, and this means a flexible system that is also quite durable. 
Despite the popularity of these two materials, it can still be a difficult choice choosing between concrete slabs and patio pavers. If you are trying to decide between the two, here are a few factors to consider:
Cost of Repair
A standard concrete slab will generally be cheaper to install as compared to the paving stones. The cost of installing interlocking pavers will be affected by several factors. A lot of preparation is necessary for the installation of paving stones. Some of the steps involved include excavation, compaction of subgrade, base compaction, development of the sand, laying pavers, compacting stones, and paver sealing. This makes the whole process to be more labor-intensive. 
No curing is necessary when dealing with paving stones. They installed pavers will be ready for use immediately. The installation is completed. If a problem arises in the pavers, it is possible to remove the Individual stone and replace the pavers.
The installation of a concrete slab is easier. However, the material will take time before it dries and cures. This means you will have to wait until completion before you can use the concrete surface. Before concrete pouring, there will be a need for excavation, grading, foundation preparation, forms setting, and concrete pouring.
A significant downside of concrete is that it can end up cracking due to the ground below flexing due to the growth of roots below the surface and aging. You also need to get your grading right during the installation of concrete. This can be a costly error to fix after concrete pouring. If concrete is wrongly graded, there may be low spots that can cause water retention that leads to staining and discoloration.
Maintenance
Both poured concrete and paving stones are not hard to maintain. The cleaning regimen is almost the same. You need to clean regularly and involve other protection measures. There is a need for regular maintenance to preserve the intercity of your driveway, patio, or walkway. 
When it comes to the maintenance of concrete, you will need to be wary of cracking and staining that can be an eyesore as the slab gets older. Choosing a stamped concrete can make the stains and cracks to be hard to notice. You can also coat the slab using a protective sealant to prevent the strains from penetrating the surface.
If the staining and cracks are more noticeable, you may have to replace the whole slab. No matter the type of concrete, you may have to deal with weed growing inside the cracks. One of your options is to spot treat the areas with a problem. But the downside of this is that you will find it hard to match the exact color of the aged concrete. Ensure that you clean the concrete regularly using a broom to get rid of stains, grime, and dirt.
If you want to know the exact kind of material needed for your patio, you will need to speak to a concrete contractor in Mountain House. At Brentwood Pro Concrete Co., we can help you to transform the look of your patio. We will do this while taking into consideration your needs, budget, and desires. Call us today on (925)309-5329, and you will love the results.