Brentwood Turf Installation
Top Turf Installation Contractors in Brentwood, CA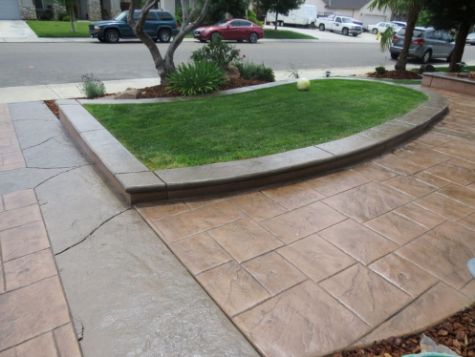 In the recent past, artificial grass has become more popular. This is mostly as a result of the normal drought conditions in Brentwood. This is on top of the fact that many people are beginning to understand the benefits of artificial grass over natural grass.
One of the reasons you should consider installing synthetic grass is that it will have the same look and feel as the natural grass. You will also need not to worry about some bare spots, brown spots, or some brown lawns during the summer months. With turf installation in Brentwood, you will have a lovely lawn that doesn't cost as much as the natural grass. 
To know more about of Brentwood Pro Concrete Co. other services like pool decks, driveways, patio, outdoor fireplace, etc, contact us  at (925)309-5329.
You will not need to worry about seeding, edging, mowing, fertilizing, aerating, and watering necessary to maintain natural grass. You also will not need to install an irrigation system, no mud, and no water bills. All you will need is occasional maintenance. With these many benefits, you can see why property owners in Brentwood are choosing to install artificial grass. If you are considering this route, here are places where you can benefit from a turf installation.
Dog Runs
Many homeowners are choosing artificial grass for their dog runs. This is mostly because it provides a soft surface that looks like the grass where the dogs can lounge or play without getting some fake brown spots when dogs urinate. On top of this, no mud or ruts are left after the rains, and there are no wet blades or warm soils that can be a breeding place for fleas. When artificial grass is used as a pet restroom, you will not need to keep moving the area. 
One of the downsides of artificial turf for a dog run is that it tends to get hotter than natural grass when exposed to direct sunlight. To overcome this challenge, you can have the dog run installed under a tree shade.
Front and Back Yard Lawns
A beautiful lawn at the front of your home can add to the aesthetic value of your home. This is why this is now a status symbol. You will want to have a beautiful front yard. One of the ways of doing that is by ensuring that the front yard looks lush and green under different weather conditions. 
You can use artificial grass at the back of your yard to create play areas for kids and pets. You can also make it a relaxation area for your guests. Therefore, if your backyard lawn will look good, it should be a comfortable and durable space for spending time.
Play Area
There is no better choice for your play area that synthetic grass. This is because it creates a level surface that comes with little tripping hazards. Many homeowners are using artificial grass to build sports fields in their backyards. This is because it offers a level playing field while reducing the risk of tripping as compared to natural grass.
Walkways
You can also use artificial grass in walkways. This can be used alone or can be combined with some synthetic stones. Its ability to handle high foot traffic makes it an excellent choice for pathways that leads to outdoor play areas, swimming pools, and gardens. If you love the look of grass but aren't ready to regularly maintain it, you should go for synthetic turf. This will provide a beautiful and durable ground cover for your walkway.
Conclusion
An artificial turf installation will enable you to enjoy a green space without having to worry about the weather conditions. If you want to enjoy the benefit of synthetic grass, you will need to talk to the expert. If you need one, you should contact Brentwood Pro Concrete Co. at (925)309-5329 for free estimates.