Most Trusted Stamped Patio Contractor in Brentwood, CA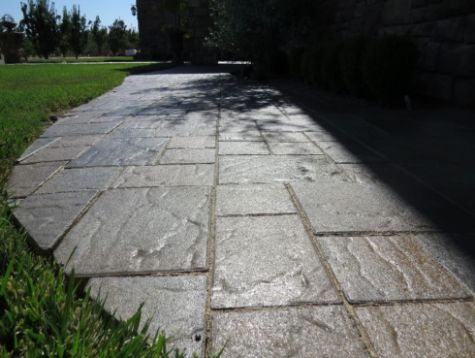 Looking for an easy way to upgrade your backyard by giving it a modern and customized look? When it comes to enhancing the face value of your outside space while keeping everything simple, only a few options can match stamped patios. Patios that are designed with stamped concrete can withstand scratch, give a uniform color and a regular shape.
Over the years, we've also witnessed many individuals struggling to find reliable contractors who can keep their word and deliver top-class services that match their mission statement. And this is where we come into frame. Brentwood Pro Concrete Co. serves the entire city of Brentwood and sees to it that every client's needs are met, even when working on a budget.
Our stamped patio services are not just your ordinary options because the material used is first tinted then poured on the base surface to give a uniform color that augurs well with your surroundings.
For more information about our Brentwood stamped patio services, call us anytime at (925) 309-5329.
How It Works
Our stamped patio services are much like what you get from regular concrete. However, the material is initially tinted to ensure the final product gives a uniform color with undeviating attention from your outdoor space. Once the concrete is poured, we stamp it with any design that's similar to bricks, tiles, or stones. This way, the final result gives a natural look, and a customized patio with superb quality and durability.
Brentwood Stamped Patio Benefits
With our experience and excellence in the construction field, the stamped patios we construct should give you the following benefits:
Customizable Patterns and Color Options
Because we will be working with you on-site, starting from the time we install the patio until we do the finishing touches, we provide tons of customizable options. We can color the concrete to suit your exterior space, swimming pool, an existing driveway, or whatever you want. Also, our concrete can be created in many designs, providing endless options for a customized landscape.
Exceptional Performance and Durability
Quality is our statement and any stamped patio that we create should serve you good for many years. Unlike many patios created by novice professionals, our stamped patios won't have uneven surfaces or succumb to the pressure from your pets and children. And you know what to do when you need our services. Right? Just make a call to (925) 309-5329.
Reduced Maintenance Costs
We are here to eliminate all the worries and hassles involved in maintaining a patio with our wide array of professional services. If you appreciate working with low maintenance costs, building a stamped patio should be atop your list of priorities. Our stamped patios are luxurious yet quite affordable, with resealing only necessary once every year. How convenient can that be?
Contact Us
As you wallow in uncertainty, wondering if a stamped patio is the best option for you, just remember that Brentwood Pro Concrete Co. has everything you may need to get a visually appealing landscape. If your exterior space would benefit from the classic look and longevity of stamped concrete, make a direct call to us anytime through (925) 309-5329 and we will deliver what serves you good in the long term.