Excellent Pool Deck Contractor in Brentwood, CA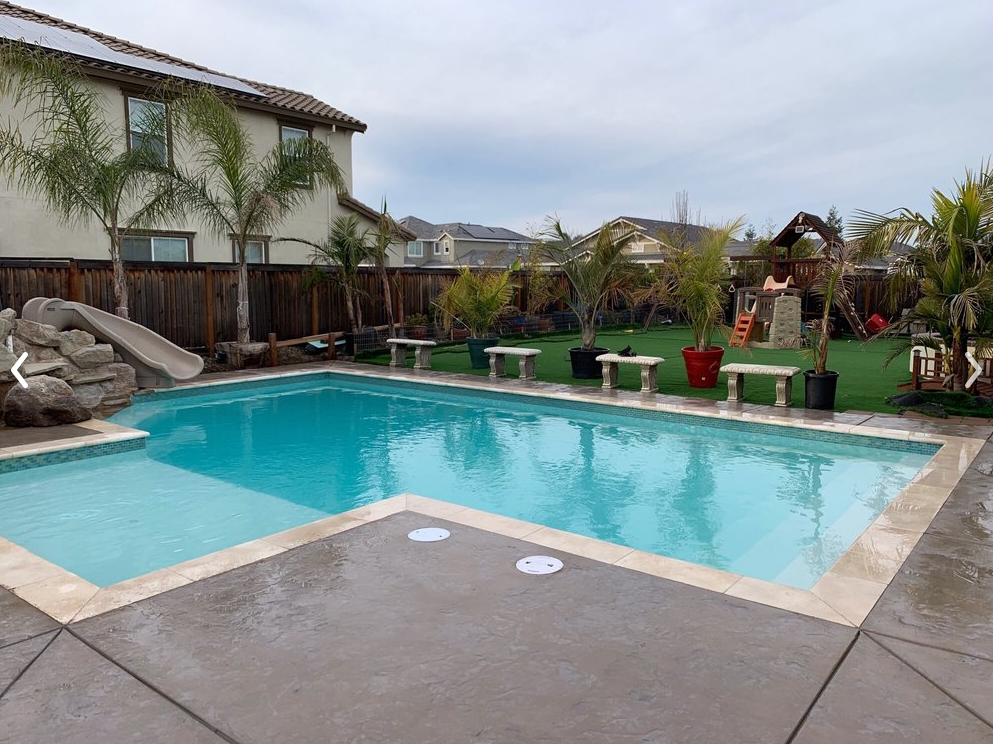 Owning a swimming pool is one thing. Maintaining it another. Luckily, there's a ready solution in constructing a pool deck. When working on your next pool project, the significance of a pool deck should never be overlooked. 
A perfectly designed pool deck provides a welcoming environment, and it's one thing you will want to get right at the initial stages of your project. At Brentwood Pro Concrete Co., we construct the highest quality pool decks to ensure the safety of visitors while creating a friendly atmosphere for recreation.
We do so confidently when we discuss our services because we know what we can offer in the broader Brentwood area and beyond. And it's not for nothing that we are one of the best concrete and masonry contractors out there. 
If you are too occupied to install, resurface, or maintain your pool deck in Brentwood, contact us through (925) 309-5329 for expert advice.
About Brentwood Pro Concrete Co.
Brentwood Pro Concrete Co. is a team of trusted professionals that delivers concrete and masonry works throughout Brentwood. We've been in the industry for a long time and have witnessed the changes in construction designs over the years. During this period, learning institutions, residential and commercial properties, have benefited from our services, which are nothing if not comprehensive. 
Our team brings decades of experience and artistry to ensure that your next concrete project is just amazing. 
Brentwood Concrete Pro Pool Deck Services
The incredible Kool deck design you could get when you work with us only goes to say why we are the best at what we do. We can create a new pool, remodel an existing option, resurface or replace it altogether. For a perfect cool deck, its necessary to pay keen attention to its design. That's why it's very crucial to work with an expert. 
Here's an overview of what we can do;
Installation
Installing a new cool deck entails creating a beautiful, safe, and fully functional unit. Pool decks are the foundation from which your ultimate swimming pool experience is built. So, you better get everything right on your first attempt.
Repairs
Who said worn out pool decks should be abandoned? Our fully-fledged service team provides not only top-notch Kool decks but also delivers incomparable repair services to give your landscape a completely new image. And all it takes is a direct call to (925) 309-5329.
Remodeling
Whether it's a small, medium-sized or large space, your pool deck will likely wear out over time if its too old to be repaired, our remodeling experience can help. We will remove the current materials and add new options to improve quality, beauty, and durability.
Other Pool Deck Services
In addition to what we've already covered, we can also provide resurfacing, sealing, and resealing services. When resurfacing, we may not have to interfere with your current design. In other words, we will swap the existing materials for new ones without stripping the entire surface.
We will apply a sealant to ensure your pool deck assumes a classic look and an improved lifespan for our sealing and resealing services.
Reach Out to Us for Quality Pool Deck Services
By now, it's pretty clear that we are one of the most reliable concrete and masonry contractors you can ever work with. Whether you are looking for installation, resurfacing, remodeling, sealing, or resealing services, we can handle it all at Brentwood Pro Concrete Co.
All you have to do is to make a call via (925) 309-5329 to get a quote or book an appointment with us.